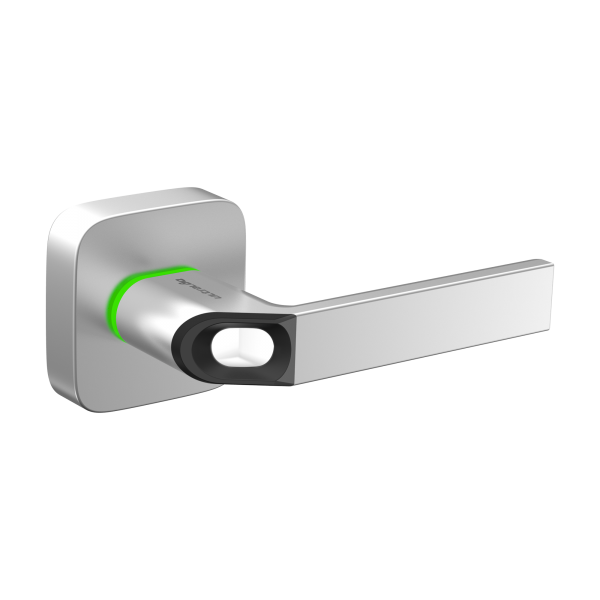 Ultraloq UL1 3-in-1 Smart Lever Lock
GENERAL DESCRIPTION
Ultraloq UL1 is a revolutionary smart lock that offers entry via biometric fingerprint identification, contactless key fob, or your Bluetooth enabled smartphone. The Bridge upgrade allows you to share an eKey with guests while you're away from your home and monitor all activity via the iOS or Android app.
Technical specification
Bluetooth Smart Connectivity: Your smartphone is now your key. Just unlock your door using the Ultraloq App on your smartphone.
One Touch Fingerprint Access:Just need "One Touch" to wakeup the sensor, unlock and turn the handle in no time.
Contactless Key Fob: 13.56MHz frequency Smart Technology. Perfect for people like kids and elderly who don't use a smartphone.
Dual Battery System: Powered by 2 sets of 2 AA batteries separately. You can just replace 2 batteries form exterior handle in case battery runs out.
DIY Installation: No wiring required. No drilling for American standard doors. Just 5 screws.
Weather Resistant: Durable Zinc alloy casing. Built for both exterior and interior doors.
Three Locking Status: Auto relock, privacy lockout and free passage.
Tri-color LED Indicator: Shows you authorised or denied access, Bluetooth connectivity status, battery and locking status.
Use Your Unique Fingerprint: The fingerprint sensor is thoughtfully positioned to accompany your natural hand positions. With our patented technology one seamless action allows you to wake the sensor, read your fingerprint and unlock your Ultraloq.
Quick Tap Entry: For those who don't want to use smartphone or fingerprint, UL1 can be unlocked with a contactless key fob. Once you present the key fob in the vicinity of handle, the door will instantly unlock. Ideal for kids and the elderly.